Marathon
Australia has many long rivers well suited for Marathon canoeing with races conducted over distances of 10 km and greater. There are various levels of competition for marathon paddlers at all levels from new paddlers to experienced veterans. The pinnacle of Marathon Paddling is at an international level  and a good summary was provided by OTV's show Race Day. The show is on YouTube in two Parts:
National Championships are raced over various distances depending on age category. The races are organised in traditional canoe classes e.g. K1's, C1's and TK1's, TC2's etc. The 2015 National championships were hosted by Burley Griffin Canoe Club and were be conducted by Australian Canoeing, PaddleNSW and BGCC. These are traditionally held each Easter, with the 2016 Nationals held in Queensland, at the Gold Coast on Regatta Lakes.
State Championships are also held in age categories and traditional canoe classes as for Nationals. Details for the State Championships can be found by clicking on the PaddleNSW logo. The 2016 State Champs were held on Narrabeen Lake.

The Paddle NSW Marathon Series is conducted by PaddleNSW and is a series of races conducted in eastern NSW. BGCC has been the series champions for 2012,13, 14 and 15 and are keen to defend the title again. The calendar for the 2016 series is below with more details on the  PaddleNSW website. This series is divisional, based on your previous results so  you are always competing against paddlers of similar ability.  This is a good format for both novice and experienced paddlers.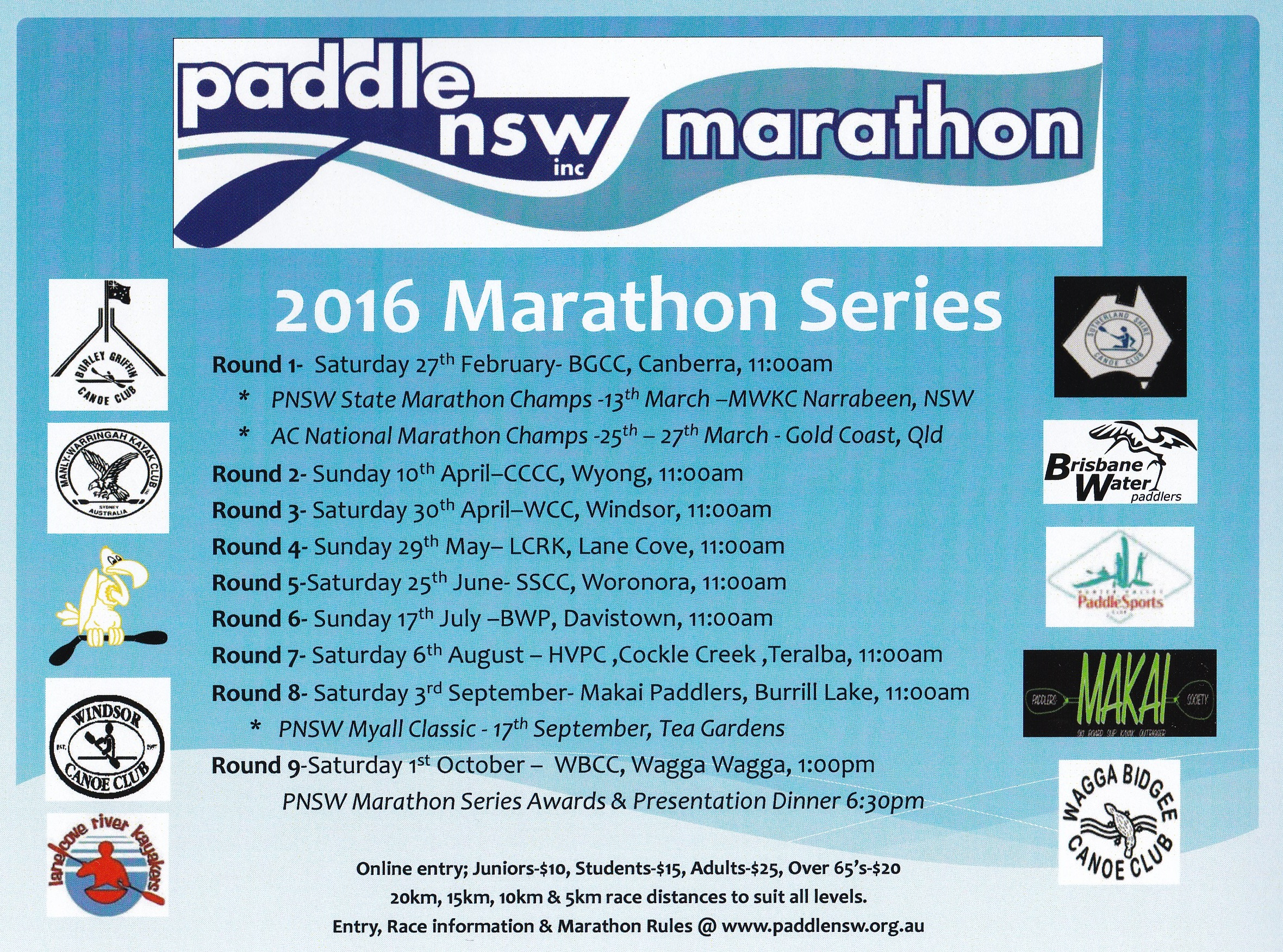 The Burley Griffin Bash is run to the  on the Sunday of the weekend of our Marathon Series race. 2016 was the 40th time the race has been conducted. This year there were races over distances of 30 km and 2, 5 and 13 km for the Mini-Bash.
BGCC also conducts the 24 Hour Paddle Challenge. This race is paddled over a 4.3 km course on the Molonglo River from the club house. Paddlers have a choice of competing as individuals or in various relay teams. The race is open to all forms of paddle craft.
BGCC members have a long history of attending a number of classic long distance races which include:
Murray River Marathon (404 km over 5 days) The Murray Marathon race, one of the longest annual ultra-marathon paddling events in the world, has taken place annually since 1969. The race is along the Murray River form Yarrawonga to Swan Hill. The Marathon Website information about the race and how to enter. It is being conducted in the last full week in November (21 - 25 November, 2016), with full distance, half distance, 1, 2 and 3-day options as well as shorter distances for junior paddlers.
The Hawkesbury Canoe Classic is an interesting race held in late October each year (29/10/16) with most of the paddling taking place overnight. One of our founding members, John Harmer, has paddled in each of the 39 events held so far. See the Hawkesbury Canoe Classic website for information about the race and how to enter. For the first time ever, a shorter option of 65 km (Windsor to Wisemans Ferry) as well as the "proper" full 111 km from Windsor to Mooney Mooney. 
The Myall Classic is a race which is often used as practice for the Hawkesbury and Murray marathons. It starts and finishes at Tea Gardens, Central Coast on the 17th of Sept, 2016 and has race distances of 12, 27 and 47 km. Go to PaddleNSW's event page for more details.
Riverland Paddling Marathon Hosted by the Marathon Canoe Club of SA for 27 years the Riverland Paddling Marathon (RPM) is not just a marathon it is a festival of paddling marathons with 6 possible events over 3 days on 1 weekend in the chilly month of June each year. Every June long weekend paddlers from all over the country gather on the Murray River in South Australia's beautiful Riverland to meet, greet and most importantly to paddle. The dates for 28th RPM are 11th, 12th & 13th June.